In this article, we will discuss the optimal Facebook cover photo size for your Facebook page. As well as show how to use our free Facebook cover photo Photoshop template.
A Facebook cover photo is the first impression a user/customer/client gets on your Facebook page. Remember that old saying?  Don't judge a book by its cover.
Whilst in life that's generally true, sadly online it's far from the case. An inconsistent, poorly branded page will reflect negatively on your page/business.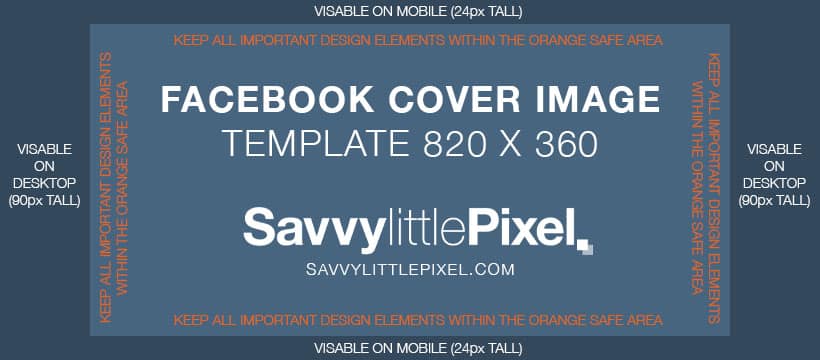 Most pages use this space for their logo or an image that represents their business/page.
Facebook Cover Image Size
Okay so you understand what a Cover photo is and its importance but what about the technical requirements for a Cover photo?
Cover photos sizes are where it gets a little confusing. You'll notice that your desktop display looks a little different from your mobile device.
The Facebook cover photo size displayed for a desktop is 820 pixels wide by 312 pixels tall. However, mobiles display at 640 pixels wide by 360 pixels tall. A correct, fully functioning Facebook cover photo is a vital step in portraying a strong image on social media.
In order to cater to both mobile and desktop displays, we will design our cover photo to be 820 pixels wide by 360 pixels tall and we recommend keeping all-important graphic and text elements within the safe area so that both desktop and mobile don't experience anything being cut off.
You can download the Optimal Facebook Cover Photo Size Template file below. Just be sure to delete the guide layer before saving your cover image.
Additional Facebook Cover Photo Rules:
You must have a minimum size of 400 x 150 pixels.
For best results, upload an sRGB JPG file less than 100KB.
For images with a logo or text, it might function best as a PNG file.
Facebook Business Page dimensions are exactly the same as personal accounts.
Using the Facebook Cover Image Template
Download the template and start by opening the template in Photoshop.
Understand the Safe Zone
The blue safe zone is the area where the important aspects of your design have to be inside, otherwise, the design will get cut off on either desktop or mobile.
Add your Design
It's time to add your design.
Delete Guides & Export
Delete the guide layer before exporting.
Go to File > Export > Save for Web
Cover images will perform best at a file size of less than 100KB, however, this does NOT mean that it HAS to be less than 100KB, so don't stress too much about the file size. Save as a JPEG.
Note: For images with a logo or text, it might function best as a PNG file.
You have a Facebook Cover Photo 
You are now ready to upload your cover photo to Facebook and share it with the world.
Since you're here…
… we have a small favor to ask. More people are reading and supporting Savvy little Pixel, than ever before. Unlike many major websites, we have no funding, no staff but a small team that has full-time jobs that volunteer their free time, creating content with love and passion. We need your support to keep delivering quality content. Every reader contribution, big or small, is so valuable. Support Savvy little Pixel from as little as £1. Thank you.